Thank you for an incredible season, Chebeague Island Inn is now closed.
To contact us in the off season, call us at 207.846.5155 for Weddings, Special Events and Group Bookings.
See you in the Spring!
Gracious Island Hotel in Maine
Voted Top Hotel in New England by Condé Nast Traveler
Perched on a hillside with inspiring views of Casco Bay, Chebeague Island Inn has been a three-season haven for travelers since the late 1880s and was completely restored in 2004.
With its vast stone fireplace and cozy atmosphere, our Great Room is the perfect place to read, relax and reconnect over a game of Scrabble or chess. Step out onto our sprawling wrap around porch and admire the view of the bay and order a cocktail that will be promptly delivered to your couch or Adirondack chair. Descend the stairs of the porch and you'll find more places to sit and relax as well as croquet and corn hole games to spark some friendly competition between your friends, family, or fellow guests. The tennis courts and the welcoming sands of Hamilton Beach are a bike ride away. Once you've worked up an appetite, our onsite restaurant awaits with its creative menu featuring the freshest local ingredients of the season.
While our island location alone is enough to help you unplug from the stresses of daily life, to ensure your complete relaxation, there are no TVs or phones.
When you arrive on Chebeague, we hope you experience the warmth of our island community. It is extremely neighborly; everyone waves, people help load and unload the ferry and offer rides, and everyone knows everyone's name. It's understated, offering all the necessities an island needs and nothing it doesn't. When people visit the Inn, they often talk about how they feel like they've stepped back in time. We hope you feel that way, too.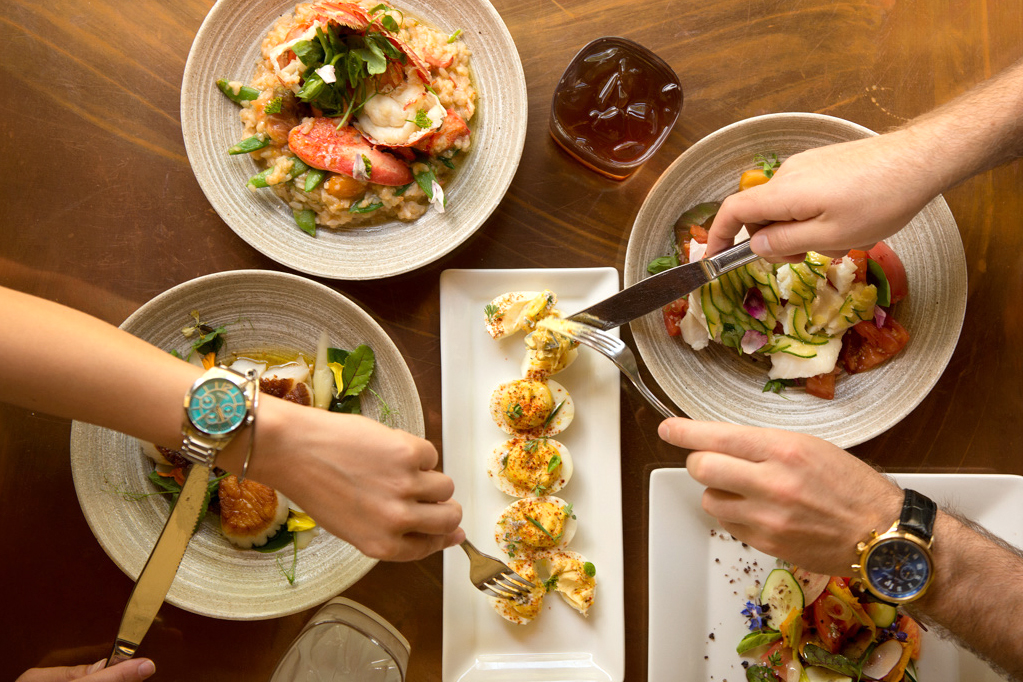 Food is incredibly important, and we're pleased to source as much locally as possible. There are various dining options available throughout the day so you can enjoy snacks and cocktails all day long.
Creating memories on Chebeague Island Inn that last a lifetime gives us joy. Weddings, anniversary parties, birthdays, family reunions and corporate outings are a few of the events we help to plan and customize. We look forward to working with you to create a celebration for your family, friends and colleagues that exceeds all your expectations!
Press Room
We are humbled and thankful to receive a lot of wonderful press. Here are some of our favorites from 2017 that hit online:
Subscribe to receive news and special offers from Cheabeague Island Inn